...and so is Tatertots & Jello!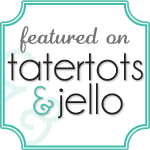 Thank you for featuring my Four-Leaf Clover Wreath this morning on your weekend wrap-up party!
Now back to Pinterest and it's wide reaching capabilities. Not that most of you don't already know that Pinterest is amazing but I thought I'd say it again. It is a wealth of fabulous ideas from men and women across the globe. I checked the stats on what had been pinned from this very blog and was pleasantly surprised! It's also a great way to see what others are saying about your projects and glean some good feedback as to what your readers are enjoying!
What I'm gathering from the pins is that the Blue Sky Confections wreaths have been a big hit as well as porch decor.
I've been blogging off and on for a couple years now and am just now starting to get the hang of social networking from reading others blogging tips and utilizing things like Facebook and Pinterest. I thought I could just share interesting projects and build a good following that way and I have built up a following with that. But if blog readers do not know your blog even exists it can be tough. I have also heard the word "tribe" used twice now on recent blogs posts from
Gussy Sews
&
Oh Amanda
. Oh Amanda is also sharing
how to use Pinterest
.
I haven't had a chance to read it yet but I'm sure it's great!
This is actually the first I've heard the word tribe. I now know I should be looking for my tribe.
Kudo's to the bloggers who understand all of this and are using it right out of the gate.
Back to what I see is working for me—I think I focus a lot on my porch and door because it's fairly inexpensive to change out seasonally and it's also the first thing someone sees when visiting your home. I also really enjoy plants and flowers and the best place to enjoy them is outdoors.
How about you? What do you tend toward changing up seasonally?
Based on Pinterest feedback what types of posts drive traffic to your blog? What are your readers really responding too? It can be a great tool if you decide to use it. Thank you so very much for pinning projects and ideas from this site. Come follow me on Pinterest!
Thanks for stopping by Blue Sky Confections!